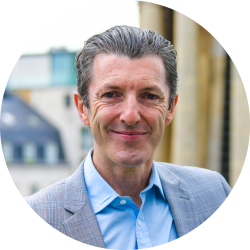 John Stapleton is a business thought leader, CEO and board director. He has set up three FMCG businesses and has over 25 years' experience in creating and building brands in the FMCG sector in both the UK and the US.
In 1987 John co-founded the New Covent Garden Soup Co, which pioneered and grew the fresh soup category in the UK. In 1998 he co-founded Glencoe Foods Inc., bringing the fresh soup concept to the United States. In 2005 John co-founded Little Dish which supplies fresh, healthy, natural and convenient meals to children over 1 year. Little Dish created and established the chilled toddler food category, has full national UK high Street retailer distribution and is the dominant brand in chilled toddler food  with a 73 per cent market share.
Earlier in 2018 John completed the second successful sale of an FMCG brand he co-founded, Little Dish (the previous one being The New Covent Garden Soup Co).