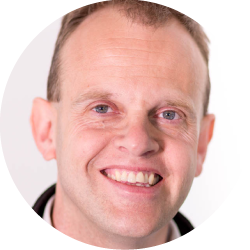 After leaving university Neil Westwood started a career in the NHS as a trainer in lean thinking which taught him how to set up and run a productive, profitable and efficient business.
After 17 years in the NHS Neil started to get frustrated with the speed at which things get done and started to think of ideas for his own business.
As a trainer he was always using flipchart stands and paper and found them cumbersome and difficult to move around a hospital. One day Neil saw a roll of cling film and had the idea of creating a whiteboard on a roll, and Magic Whiteboard was launched in 2006.
Neil worked evenings and weekends to get the business started. He went to trade shows on his days off work, and his wife Laura took the rolls to the Post Office.
Some 18 months later the pair were convinced to go on Dragons' Den at a friend's wedding. Neil completed the application form and three weeks later he accepted investment from Theo Paphitis and Deborah Meaden of £100,000. Magic Whiteboard has now been in business ten years and has sold over 1 million rolls. Recently, Neil bought back the Dragons' shares, owning 100 per cent of the company once more.