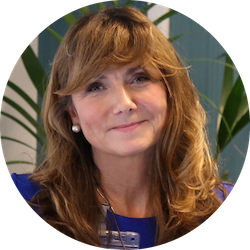 Starting her career in Education as a Teacher in North London, Teresa subsequently diversified into Youth Training, as Area Training Manager for London at YMCA Training Services, where she was instrumental in developing the commercial training division for YMCA, completing a Diploma in Marketing, and subsequently designing and developing Supervisory and Management Training for BP International Group Training, M&S, Boots, Texaco and Prudential Bache.
In 1989, Teresa launched Kennedy Scott on the back of a contract from BP Group Training International to deliver IT and Business Admin training. For the last 28 years, she has been the CEO of Kennedy Scott, founded to support people to achieve their potential and progress in their careers and lives and this remains central to the organisation today. Launched at the outset of outsourced Employment services in the UK, KS has evolved and grown generically under her leadership, developing an excellent reputation for supporting those most marginalised in our society into work. Gaining numerous awards and accolades, Kennedy Scott is one of the country's leading authorities on Employability and supporting disabled people into sustainable careers, topping the National SES League Table andfinalists for Disability Provider of 2017 and 2018 – ERSA awards.
Teresa's passion and drive for excellence and innovation through teamwork, whilst keeping the customer at the heart of all they do has informed the innovative Circle of Support model, which was the subject of a fact-finding visit by DWP Strategy Department in 2017. Teresa's complementary experience covers Vice Chair and Chair of the ERSA Media, Policy and Communications forum, involved in developing a media engagement strategy for ERSA striving to project a positive image of W2W against tabloid negativity. She is also a Board Advisory Member of Spiral, a Social Enterprise, offering support to disaffected 14-16 years in
London to prevent them becoming NEETS. ABoard member of the Institute of Employability Professionals, and a Corporate Affiliate sponsor of the IEP.
Her commitment to professional development within W2W is evidenced throughout Kennedy Scott who, as one of the founding organisations for Apprenticeships within this sector, provides internal route ways for Apprentices.
As a a fellow of the Chartered Institute of Personnel and Development and a Fellow of the Institute of Employability Professionals, Teresa offers strategic guidance to Boards and the IEP on future growth and development opportunities. In 2016 Teresa was bestowed a Fellow of the IEP; awarded Business Woman of the Year at the Network SHE awards, and recognised by Industry Lead Body, ERSA, when she was awarded a Lifetime Achievement Award.
In January 2018, Teresa was awarded an OBE for services to Entrepreneurship and Employability in the Queens New Years honours list.