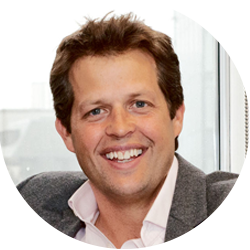 Tim Warrillow has a business management degree from Newcastle University, specialising in food marketing. During University he started his first business, a waitering agency. In 1998 he joined a London based advertising and branding agency. Subsequently he launched the Business Development Consultancy which included identifying opportunities in the premium food and drink sector. It was in this role that he made contact with Charles Rolls, which resulted in the formation of Fever-Tree.
Fever-Tree is now the global leader in premium mixer drinks, sold in 65 countries and a public listed company with a valuation of c.£1.8 billion. Fever-Tree has won over 20 awards, including the much coveted Queens award for Export. Tim was named PLC CEO of the year in 2016 by Shares Magazine and Tim and Charles won the Investec Food & Drink Entrepreneur of the year in 2014.
Married with four young sons, Tim has a diminishing amount of time for hobbies, although still desperately tries to find time for squash, golf and tennis, is a very amateur foodie and cook, travels for fun and a lot for business.